SOFT-FX

Solution Catalogue
Soft-FX delivers fintech software solutions to exchange and brokerage businesses with stable and high-performing technology products. Our professionals work on software development to provide a brokerage business with all the latest innovations and best practices.
Soft-FX solution catalogue covers a wide range of trading technologies with the 3 main groups: Margin Trading, Exchange & Liquidity. All these groups include the specific + types of market demands where Soft-FX can demonstrate relevant experience.
As a provider of cutting-edge technological solutions to the FX and Crypto industry for over a decade, our highly experienced teams of IT, Legal and Financial professionals ensure all clients have the most comprehensive support during their business development journeys.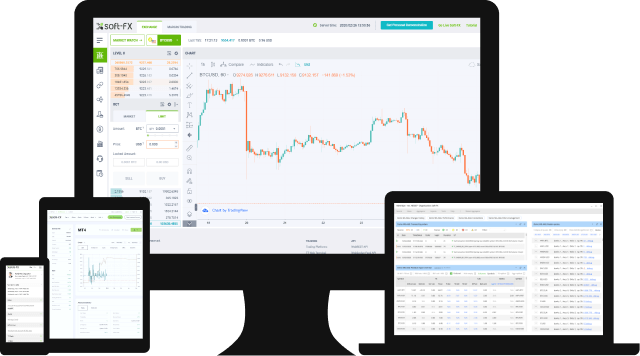 SECURE & SCALABLE TECHNOLOGY by
Soft-FX
Schedule a 15-minute live demonstration of our solutions.
Schedule a demo
Margin Trading Software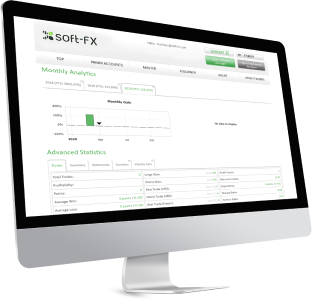 Soft-FX
provides a wide spectrum of margin trading software solutions that allow your business to automate full-cycle trading processes. The right combination of
Soft-FX
products gives traders cutting-edge tools that support their end-to-end trading journey. Select the exact solution that you are looking for and explore the exact value for your business:
More info
Crypto Broker Turnkey
A complete software solution for leveraged trading of crypto and digitized assets:
Unlimited number of crypto, fiat and tokenized assets instruments for trading;
Broad choice of ready-to-use Liquidity Providers;
Full technical support and education
Forex Broker Turnkey
A complete software solution for fintech brokerage business:
Currencies, Stocks, Commodities, Indices, Crypto instruments supported;
Automated Risk management tools;
MT4/MT5 compatible
Investment Platform
Unite experienced traders and people who are interested in financial markets all over the world:
Real-time data collection and advanced analytical tool with variety of statistic parameters
User-friendly and easily operated web- interface;
Maximum flexibility in customization to meet different broker's needs
Exchange Software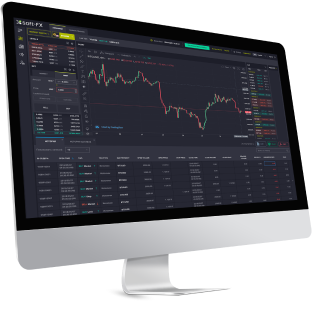 Complete end-to-end Crypto Exchange Software Solution by Soft-FX professionals. We allow our clients to focus on business development activities where our professionals fully handle the technological development and support.
Soft-FX cryptocurrency exchange platform cost is significantly lower compared to building a company's own technology from scratch.
Our team guarantees a minimum time to market to give our clients an opportunity to operate like a tech company in months, not years.
More info
White Label Crypto Exchange
A secure, stable white label solution with dozens of integrations with a 2-week implementation:
Compliance with state-of-the art safety measures to protect client data and funds;
Over 15 ready-to-use connectors to external crypto exchanges;
Built in KYC / AML tools
Cryptocurrency Trading Platform
An all-in-one application for margin trading and exchange of Crypto and derivative trading instruments. The core of every exchange business:
Advanced Trade matching engine
FIX API, REST API, and Web Sockets API supported;
Algorithmic studio with preset Market Making algos
Bespoke Crypto Exchange
Fully customizable cryptocurrency exchange software by
Soft-FX
. Depending on your business needs, we elaborate your implementation roadmap:
Omnichannel customer experience;
Unique customization and custom development;
Advanced knowledge sharing and customer support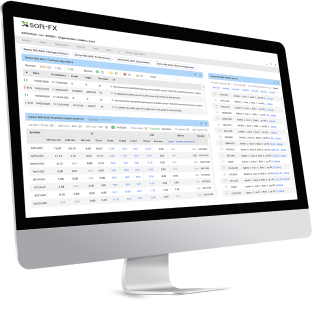 Liquidity Software
Soft-FX provides the software solution for liquidity aggregation from various external and internal sources within a single view. It supports different combinations of order types and tiered pricing.
It makes it possible to digitize and tokenize the assets, as well as to create the custom trading instruments and indices. This advanced solution makes it possible for the companies to manage their liquidity, so that the numerous combinations for best execution and smart order routing could be set up according to specific rules defined by each firm.
More info